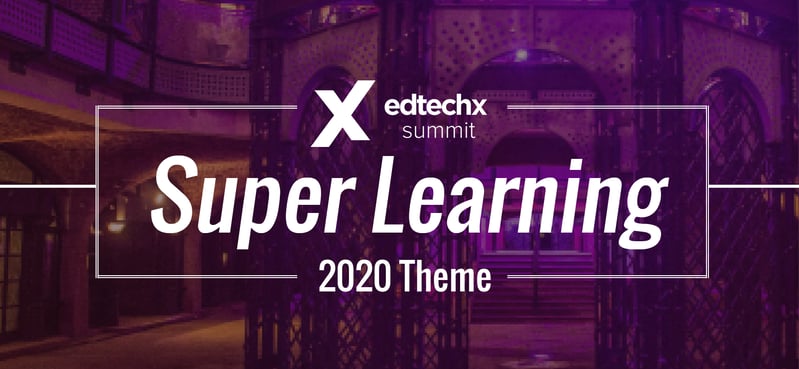 Following on from our Learning is the New Tech Theme in 2019, EdTechX explores the world of Super Learning in 2020

What Is Super Learning?
With technology now learning the way humans do, and artificial intelligence soon able to replicate human neural capabilities to improve their own understanding, the focus is being driven towards deciding not only how we learn but what we learn. The way we approach learning will ultimately change the way we approach work and disrupt the industry in the next 10 years.

How Did We Get Here?
Companies are increasing investing in knowledge rather than technology; people are working remotely and collaborating with robots and AI and data are enabling cost effective delivery of bespoke learning. These are some of the key elements that are driving new initiatives reshaping the sector.

Understanding what and how we need to learn has become a critical part of the changing landscape of education and work. Learning experiences are becoming more enhanced and we continue to integrate technology into every element of life. In 2020, EdTechX will explore this new Super Learning approach embraced in EdTech.
EdTechX 2020 is where ideas are catalysed, new trends are unearthed and connections are made. In a world where people and technology are becoming more entwined, EdTechX will uncover where the next innovation lies and predict how Super Learning will lead and enhance technology in education and work.
---

Opening Keynote: Super Learning
IBIS Capital & EdTechX Holdings

Keynote: Preparing Prisoners For the Future Digital Job Market
Criminal Sanctions Agency, Finland

Panel: The Importance of Learning Design in EdTech
MIT, Harvard Business School Online, University of Pennsylvania

Panel: Scaling EdTech Solutions to Close the Education Gap
Save The Children, War Child

Keynote: Augmented Creativity in Education
Disney

Debate: The House Believes That The Age of Lifelong Learning Will Extinguish the Specialist
Hosted by Debate Mate
---

EdTechX Moves
to A New Venue >

EdTechX Holdings and Ibis Capital Contribute to Citi Report on Future of Education >


EdTechX Holdings Announces Landmark Transaction in China >



EdTechX Launches Teachers Meet Tech >



Discover more on
EdTechX 360 >
Don't miss our exclusive 30% ticket discounts for EdTechXEurope, expiring 1st of April - reserve your place now >