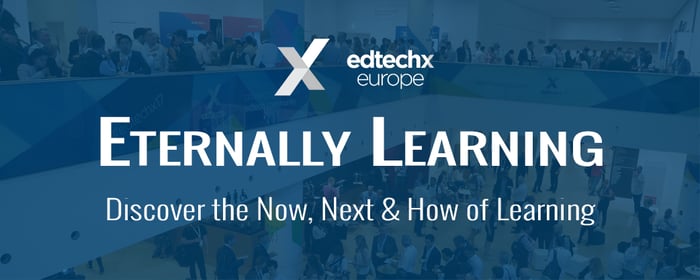 I
ntroducing
Eternally Learning
- the new theme of EdTechXEurope 2018 summit.
We are growing our network to
cover every aspect of the future of education and work
. Be part of the widest ed - and learn - tech community! And bring your network, to shape the future of every human being in the world to be eternally learning.
Join us at the Brewery on 19th June 2018 for the following Eternally Learning sessions at EdTechXEurope:
---

Early Learning & K-12 Sessions:

Keynote: Coding in early years - Playful programming for Pre-K kids
Panel: Apps and adaptive learning - Transforming engagement in early learning
Workshop: Teaching the 4Cs of 21st century learning to the next generation of leaders
Keynote: Expanding learning environments beyond the classroom
Panel: Tech and self-expression - Power of digital play

Panel: High tech, low-cost education to empower all
Panel: From buzzwords to tools - Use cases for mixed realities today
Keynote: Digitalising K12: Power of AI and personalisation
Panel: Future of assessment - Minimizing the achievement gap
Keynote: Helping students to unlock their potential with 21st century skills
Workshop: Future Teacher - Global Teacher Shortage Challenge

---
Higher Education Sessions:

Corporate Learning & Future of Work:

Panel: Publishers - Superpowers that will deliver student outcomes
Keynote: Rigorous design now for student success tomorrow
Keynote: Ecosystem – unite! Collaboration across the field as the key to unlocking progress
Panel: Teaching and learning 2022 - The radical transformation of education through datamining, deep-learning, and the redefinition of the classroom
Panel: Personalised learning – One size does not fit all
Workshop: Innovating in learning institutions – Building environment that works

Global Start-up Super League: Meet the most transformational Work and LearnTech
Panel: Learning analytics to help you realise the full potential of your L&D strategy
Keynote: The future of work - Prepare today's and tomorrow's workforce
Panel: Next Industrial Revolution - Where will employers acquire their future talents?
Workshop: 21st century workplace - Science to better work culture
Panel: Reimagining Corporate Education

---
Life Long & Mature Learning Sessions:
Keynote: You're never too old to learn something new: Active learning in third and fourth age
Workshop: Designing the learning ecosystem of the future
Panel: Present and future of informal learning - skilling, upskilling, reskilling
Keynote: Credentials 2020: Can education reap the benefits of blockchain?
Panel: Lifelong learning as a lifeline for maturing communities

---
Join 900+ global thought leaders at EdTechXEurope on 19 June 2018 - reserve your place now >