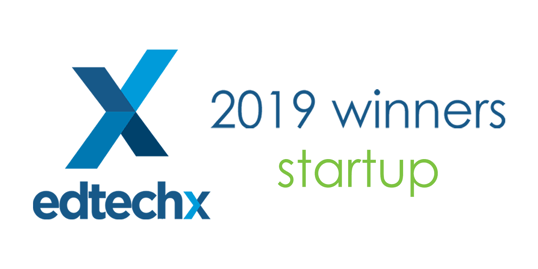 Founded 2015| United Kingdom

CENTURY is the award-winning artificial intelligence teaching and

learning platform for schools, colleges and universities.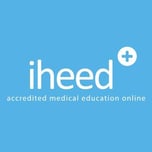 Founded 2014 | Ireland

We deliver online and blended University Postgraduate Qualifications to doctors and nurses in Europe, Middle East and Asia in partnership with the World's leading Medical Universities.


Founded 2012 | United Kingdom

Owned by The Open University and The SEEK Group, FutureLearn is a leading social learning platform with the purpose to transform access to education on a global scale.

Founded 2013 | United Kingdom

Digital Surgery is a health tech company shaping the future of surgery through the

convergence of surgical expertise and technology.
---
2019 EdTechXGlobal Awards Finalists
The six distinguished winners are also part of 60 finalists across the entire EdTechX Startup, Scale-Up and Impact Award Categories - honouring a selection of 20 in each category of the most inventive, fastest-growing startups.
20 EdTechXGlobal Awards 2019 Startup category finalists include: Blackbullion (UK), VE Vision Education (Austria), CENTURY Tech (UK), Warp VR (Netherlands), examPAL (Israel), NCR Eduservices (India), StudySmarter (Germany), Morressier (Germany), Ducere Global Business School (Australia), Baguette Academy (France), Eduten (Finland), NewCampus (Singapore), WEXT (Turkey), Smowltech (Spain), Beetroot Academy (Ukraine), Sana Labs (Sweden), iHeed (Ireland), Greyatom (India), Teacherly,io (UK), Chalk (Canada),
20 EdTechXGlobal Awards 2019 Scale-Up category finalists include: Learning Technologies Group (UK), Toppr (India), Busuu (UK), ApplyBoard, Amity University Online (India), Le Wagon (France), Openclassrooms (France), Twinkl (UK)l, Unicaf (Cyprus), Virtual College (UK), Touch Surgery (UK), FutureLearn (UK), Learnship (Germany), Ducere (Australia), Upgrad (India), Circus Street (UK), Mindtools (UK), Coorpacademy (Switzerland), Seagull (Norway), Clio Online (Denmark).
20 EdTechX Awards 2019 Impact category finalists include: Interacpedia (Colombia), Akshara Foundation (India), Snapplify (South Africa), Bevel for Osmosis (USA), Edukasyon (Philippines), FinanceYOU International (Canada), Espranza Innovations (India), UpLearn (UK), YapTechnology (UK), ibGenius (Estonia), Fiction Express (Spain), Arvore de Livros (Brazil), Elewa Company (Kenya), Yusudi (Kenya), Eneza Education (Kenya), TechmasterSA (South Africa), Local Electricity Project (Zambia), Moringa School (Kenya), Inets Company (Tanzania), Puzzle English (Russia).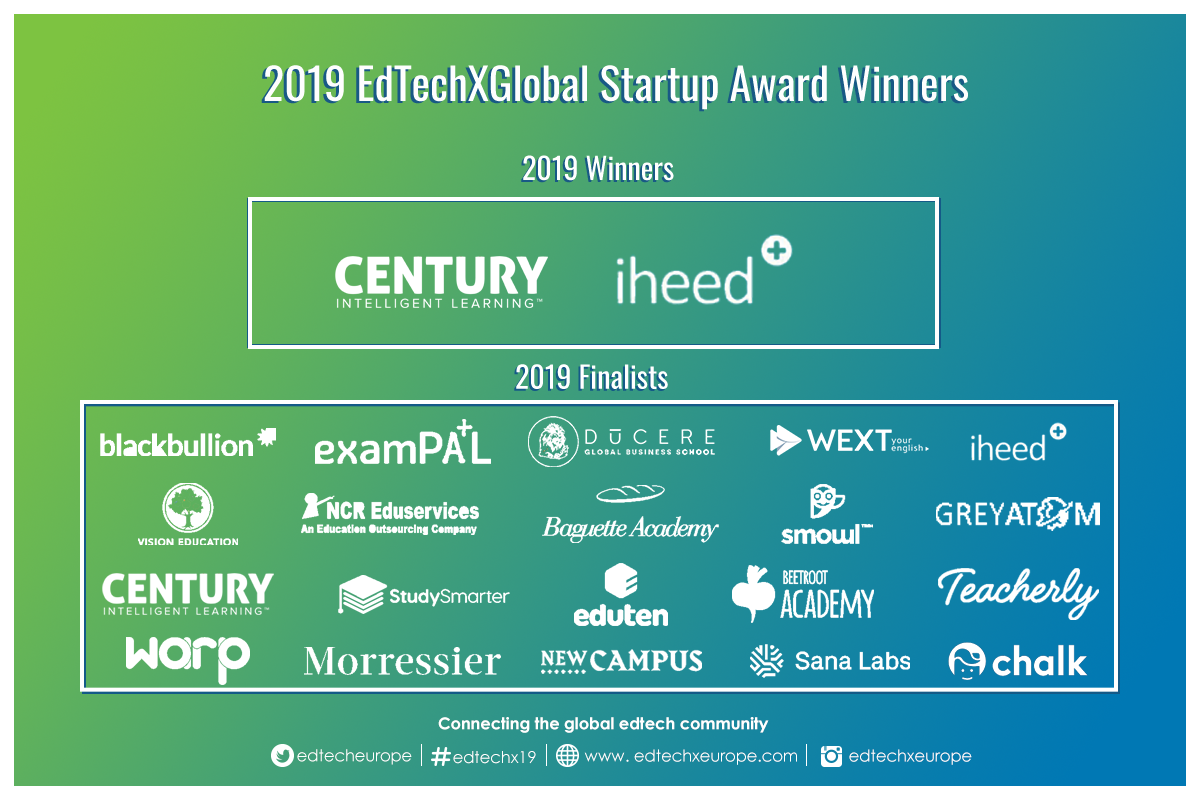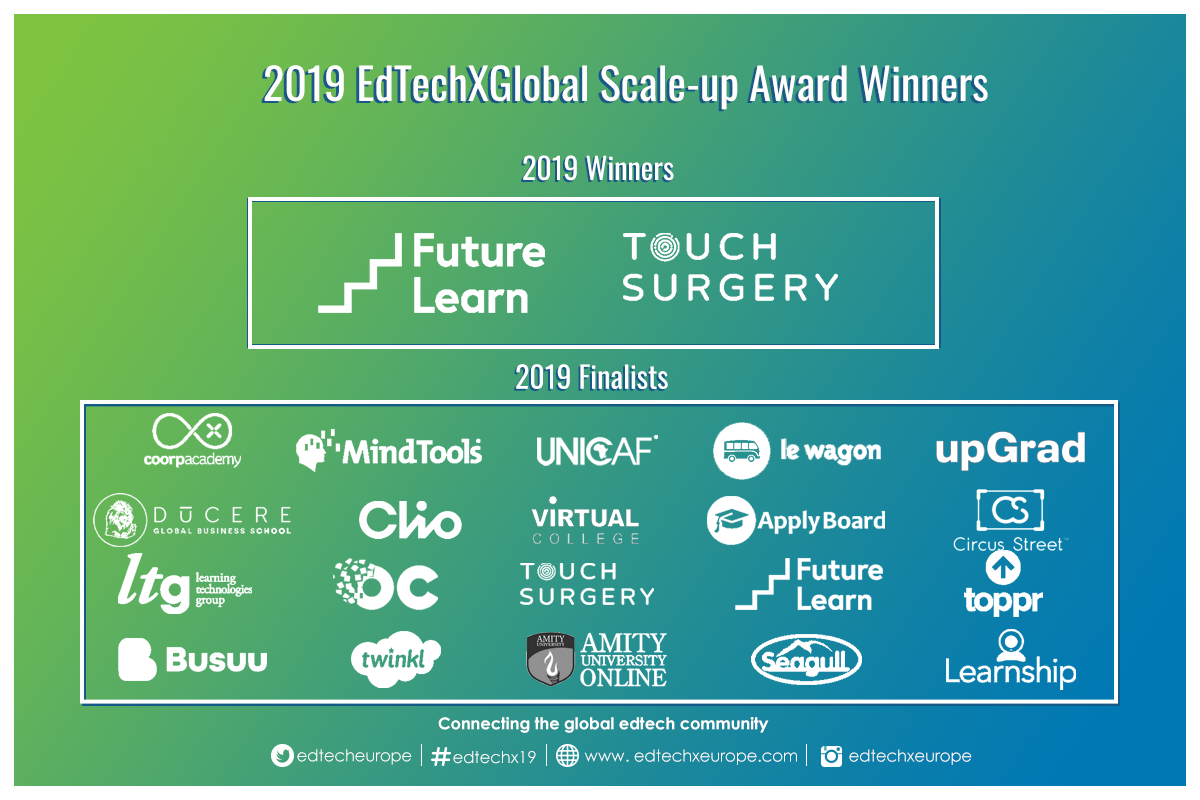 ---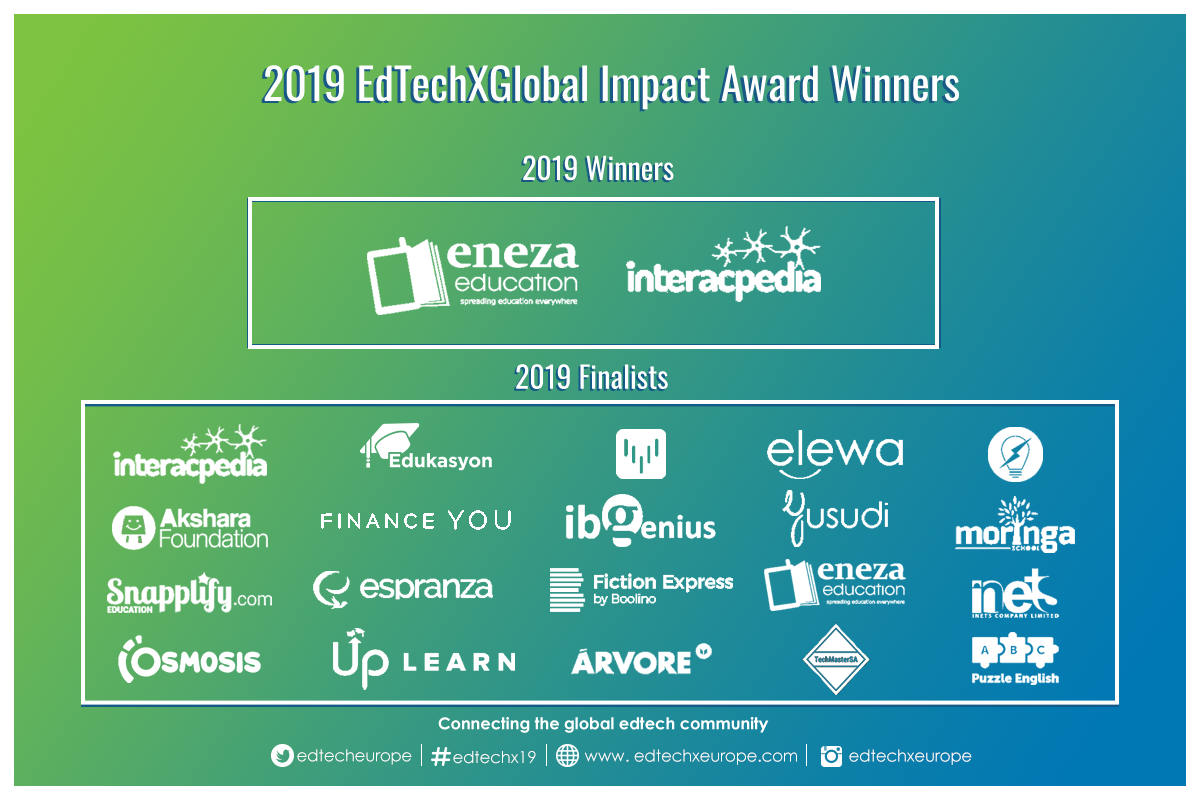 2020 EdTechXGlobal Awards
We're looking for companies who have shown the most significant innovation, growth or impact over the last year.
Determined by a panel of global judges, the winners of the 2020 EdTechX Awards will be announced at our EdTechXEurope summit in London, UK in June 2020.
Start your application now for our 2020 EdTechXGlobal Awards via the adjacent form.
After completing the form, look out for an email from us which will contain a link to the full application form in the appropriate Awards category. This will be based on the information you provide via the adjacent form
Questions? Contact us for more information.
Start your Application for Our 2020 Awards