In a rapidly evolving knowledge economy and expanding human potential, how we learn and teach has continuously re-defined education and technology.
As learning science develops and we discover more efficient ways of learning, the opportunity to identify improved outcomes while prioritising personalisation using EdTech will become more of a reality.
A more tailored approach to learning leads to creative disruption - bringing opportunities and challenges from globalisation, consolidation and digitisation across the education industry.
How do we continue to make learning more informal? Can we slow down the depreciation of skills and optimise the demand for learning? Will we address the skills gap to keep up with the pace of automation and how do we capitalise on skill diversification, collaboration and aspiration?
The seventh edition of the EdTechXEurope thought leadership summit will investigate these key questions and explore how we can best maximise human potential through embracing this new era of re-learning how we learn.

To remain relevant and valuable in today's rapidly advancing world, learning needs to take place not only in the classroom but at every stage of life. 'Eternally Learning' was the driving idea behind the sixth annual EdTechXEurope summit on 19 June 2018.

The celebrated opening keynote, presented by EdTechXGlobal Co-founders Charles McIntyre and Benjamin Vedrenne Cloquet, addressed some of today's most relevant topics within education, future of work, and the knowledge economy.

Charles and Benjamin outlined how knowledge has started to disrupt technology and the need to invest in a more versatile workforce. Compartmentalisation of education and work will no longer suit the transition to the gig economy and so where technology once replaced learning…learning is now becoming the new tech.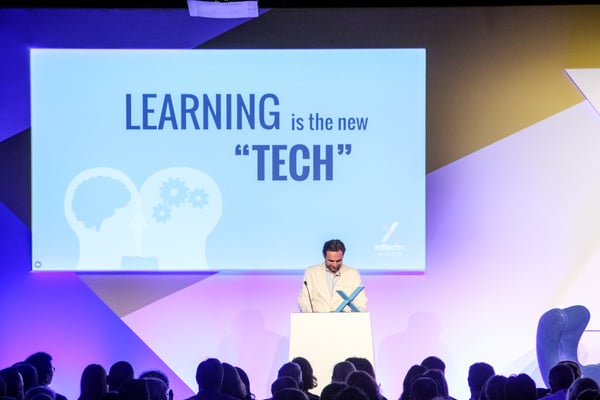 ---
To investigate the key questions of how to maximise human potential in the knowledge economy, EdTechXEurope will deliberate how the latest initiatives are trending towards investing in knowledge.

We are moving to a zero no-education environment, where demand for learning grows exponentially. Now is the time to decide how we will learn and use technology to bring together better education innovations, ideas and solutions for all.

The EdTechXEurope 2019 spotlight will be on exploring how 'In the Knowledge Economy, Learning is the New Tech' - featuring 150+ speakers from 60+ countries to debate and discuss leading ideas surrounding this key concept.

We invite you to join us as a speaker, partner or attendee by registering your interest here to contribute to a global conversation about 're-learning how we learn' with 900+ thought leaders who will be present at EdTechX in London this June.

Featured Learning is the New Tech Sessions for 2019:

Panel: Collaboration, Quality, and Motivation: The Nordic EdTech Alliance
Keynote:Less Schooling, More Education: Why We Need To Reinvent The Global Education System
Fireside: Powering Creativity, Personalisation and Gamification in The New Era Of Learning
Fireside: The State of Data Privacy and Security in the EdTech Space
Panel: Will Future Universities Still Need Bricks and Mortar?
Panel: Global Education Is No Longer Fit For The 21st Century
Keynote: The Future Of Work
Panel: Re-learning How We Learn